A group of housing experts, scientists and representatives of the solid wood exterior siding industry have formed a working group that has poled its knowledge for 2 years with the main objective of improving the quality of construction works. Here is the fruit of this work. This is a first version which, like construction, codes and standards will evolve over time!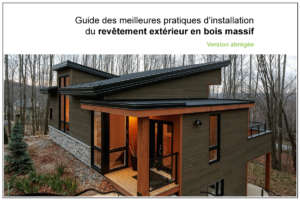 You will find in our documents:
Read through it, use it, spread it! It is the result of a fine collaboration of experts with decades of experience and having reached a consensus on its content. These concepts are therefore based on their cumulative experience in the field, in industry and in the laboratory when necessary.
MANUFACTURERS, DESIGNERS, CONTRACTORS AND CONSUMERS WILL ALL BENEFIT FROM THE QUALITY OF THE WORK ALWAYS IMPROVING!